A terrific bookseller writes in her blog about the best picture book authors
in Canada. Guess who she included? Me!
Hear Frieda read from her new picture books on Kids' Time!
Eavesdrop on Frieda chatting about her work:
2013
Hello New Book!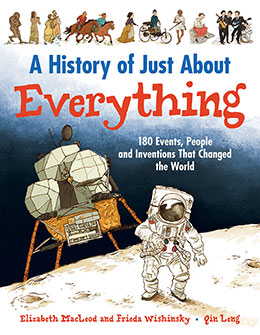 A HISTORY OF JUST ABOUT EVERYTHING
Kids Can Press
Great reviews and a few nominations welcomed this fall 2013 book I co-authored with Elizabeth MacLeod— our second book together. (We're on to our third) Here we highlight 180 key historical events and show how everything in the past connects and ripples forward to the future.
FRIEDA ON THE ROAD
It was a spring of almost non-stop travel for work and pleasure. I spoke at libraries and schools in the North West Territory, met some wonderful people of all ages and got to "mush" with three hardy dogs led by an expert 8 year-old "musher". I even landed in the thawing snow. It was all part of the NWT experience! (That and a snowstorm a few days later)
Next I was off to Ottawa and had a great time being part of MASC and working with eager young writers. That was followed by my first visit to New Brunswick and speaking in schools and libraries in cities and small towns topped off by a brief visit to Halifax for the Hackmatack awards.
To cap the spring off, Bill and I traveled to the UK in late May and spent 9 museum-filled days in London, 2 days in Norwich with a lovely friend, 5 days of exploring Exeter and rural and coastal Devon and 5 days of traipsing around magical Cornwall. (Cornwall and the Lake District are my favorite spots in England.)
The summer was all about writing, gardening and having lovely breakfasts and teas with family and friends in our overhauled backyard. The grass had been replaced with little hills and winding paths amidst flowering bushes. Our beloved giant silver maple continued to give us shade and joy.
September brought me to Vancouver for the International Writers Festival. It was fun to speak with Liz, listen to other speakers and be back in B.C. despite the dense fog.
In October it was off to New York for research and the delights of a New York fall.
But December ended 2013 with ice. Lots and lots of brutal, heavy, damaging ice. No power for days. No telephone. We lost our once lush front tree and our silver maple lost many branches but hopefully will recover to greet another spring.
2011 AND 2012
NEW BOOKS
Check out these new titles. I'm excited about them all, and especially pleased that my latest non-fiction title, EXPLORERS WHO'VE MADE IT... or died trying has been nominated for four kids choice awards right across Canada! I loved researching, writing and kidding around about these 12 tough, intrepid and risk-taking guys!
"...readers will be captivated by both Sophie's and Bear's facial expressions; Sophies's exuberance is obvious..." Kirkus
EXPLORERS WHO MADE IT... or died trying
Nominated for the Silver Birch, Hackamatack, Red Cedar and Rocky Mountain Awards
The 17th Canadian Flyer Adventure!
FRIEDA ON THE ROAD — 2011 AND 2012
I've loved traveling for work and pleasure, making new friends in new places, visiting with old friends in old haunts, and speaking to kids and adults of all ages.
A writing life is challenging and it's constantly changing. It's a gift to write about what matters to me—whether it's fiction or non-fiction, for little kids or big ones!
2012 IN A NUTSHELL
I spoke at dynamic conferences such as Reading for the Love of It in the grey of a Toronto winter, the Frye Festival in wet and welcoming Moncton, New Brunswick in April and the Northwords Festival surrounded by the magic of a Huntsville, Ontario fall.
I spoke at many schools and libraries throughout Ontario and at Orillia's Georgian College. I presented to kids from kindergarten through college. I enjoyed gearing my presentations to each individual group.
I revisited Boston in the spring and New England in the fall and learned more about American history and art from around the world. (The Peabody Essex Museum in Salem, Massachusetts is a treasure).
I was proud of our daughter-in-law Tatiana as she was awarded top clinical student in nursing at her graduation from Ohio State.
My friend, illustrator Kady McDonald Denton's tiny island near Peterborough was again a place of relaxation amid beauty, even when I tipped over in a kayak!
And in the spring and fall, we spent a week plus in my "home" New York City. New York is "home" because I grew up there and visiting energizes and connects me to who I was as a kid and who I am now. New York City is always the same. Always different. Always a surprise. Always full of memories.
In the fall I spoke at the 42nd St. Library about bullying on a panel with other writers. Every time I walk into the library I remember the times I visited as a kid and as a university student. I'm delighted that this amazing building has been revitalized and that Bryant Park is now a lovely spot to read, sip coffee and watch the world instead of a dirty and dangerous place as it was in the 1970s. Cities can come back and I hope New York never goes back to the unpleasantness of the 1970s.
2011 — A QUICK REVIEW
Conferences and Teaching: Workshops at Reading for the Love of It, Humber summer program for writers, presenting to Quebec teachers, speaking at Books By the Bay in Nova Scotia, to Surrey BC schools and fellow kids authors at CWILL BC.
Travels for research, promotion and pleasure:
New York twice, in the spring and in the fall. Wonderful walks in Central Park continue to be one of the highlights of a NY trip!
I loved traveling through the Dordogne area of France with my cousin Philippe and my husband Bill in May/June. And right after that, Bill and I trekked by train, bus and on foot through Scotland for a few weeks of history and stunning landscapes. At the end of our month long trip, we made a return visit to England's magical Lake District. There's something about the lighting there. It's wonderfully moody and shimmering in the morning and at dusk. You have to be there to see and feel it.
In July we visited Kady MacDonald Denton's magical tiny island near Peterborough. It was a few days of total "awayness".
SPRING / SUMMER / EARLY FALL 2010
NEW BOOKS
I'm excited about my four 2010 titles! They've all been warmly received already! Yes!
"highly recommended" and four stars from CM magazine
ALA Quick Pick for the Reluctant Reader nominee
"...an absolute must..." Kirkus
"I think it's my favorite alphabet book of all." Word of Mouse Book Reviews
Just out!
FRIEDA ON THE ROAD...
It was a spring of travel, adventure and discovery.
New York in April was a wonderful town. I loved walking in Central Park, roaming uptown, exploring downtown and of course, crossing the Brooklyn Bridge. I enjoyed photography galleries, the Henri Cartier Bresson exhibit at the Museum of Modern Art, lunch amid the palms at Asia House and taking pictures everywhere.
Ottawa in late April was the best kind of teaching —mentoring grade 4-8 students who love to write through the MASC program.
Saskatoon in early May was intense and fast-paced book talk at the Literacy for Life Conference. Two days of back-to-back presentations for kids in grade 4 and up. Loved using power point for the first time.
Vancouver in early May was blooming. What a delight to speak to all those West Vancouver grade two kids for BOOKTOPIA.
Seattle in early May was a revelation. My first visit to that city of ocean, mountains and great independent bookstores.
France and Germany in late May/mid June was about discovering where I was born and uncovering history.
And along the way...we visited Munich and met a remarkable relative. We spent time in the stunning spa town of Bad Reichenhall where I was born (although my birth certificate says Munich) and explored the Bavarian Alps.
I saw my picture book, BITTE, LUISE!, in a library high up in a mountain town and the librarian stuck it in the window. (I smiled all the way to the bakery down the street.)
Paris was a week of luscious markets, taking photos, making new friends, the Eiffel Tower and museums.
I never tire of walking down Parisian streets, soaking up the view, learning new aspects of history and eating local food. (And then there's the divine hot chocolate at Angelina.)
Graffiti-covered, fascinating, ever changing, East Berlin was our last stop in Europe. We visited many museums (four in one day). I relished the cornucopia of art and history. But Berlin is more than museums. History lies on every corner, down every alley, up every street.
The summer was spent writing two books and presenting at one festival. One book will be published by Scholastic and it's about explorers. The second is book #16 in the Canadian Flyer Adventures (It's called Arctic Storm.)
The literary festival was the unique and welcoming Lakefield Literary Festival. What fun to share time and a stage with my friend, Kady MacDonald Denton (She's the illustrator of our book, YOU'RE MEAN LILY JEAN.)
Fall brought talks at Telling Tales in Rockton Ontario and Word on the Street in Toronto. Two buzzy, busy festivals connecting books, readers and writers. And my presentation for my new book THE QUEEN'S SECRET was a hit at both. (Of course, a crown helps!)
FALL 2009
BOOK NEWS
So nice!
My three books published this fall have had a wonderful reception and great reviews.
"Quill and Quire" starred review, First and Best Toronto Library, Blue Spruce nominee, Recommended by the CBC Kids Book panel, Highly recommended CM magazine
"Quill and Quire" starred review, Canadian Teacher magazine rave review
Highly recommended CM magazine
Now on to the spring titles!
BLOB, a "Current" from Orca for readers in grade 5 and up. It's about food (and self-esteem).
SOS TITANIC, book #14 in the Canadian Flyer Adventures.
FRIEDA ON THE ROAD...
It's been a busy, buzz-around fall. I've given lots of presentations and had lots of fun meeting lovely librarians, teachers, parents, booksellers and kids all over Ontario.
Beside terrific schools and libraries in Toronto, I spoke at:
Word on the Street, Toronto
Brantford, Nippising Teacher's Conference
Eden Mills Literary Festival
Port Colborne Literacy Festival
Milton Book Festival
Peterborough schools and book launch at Titles bookstore
Ottawa libraries
I also enjoyed a delightful tea and visit at the welcoming Flying Dragon bookstore with my amazing illustrator for YOU'RE MEAN LILY JEAN, Kady MacDonald Denton. What a treat to get to know such a fine lady and artist.
In October, I spent a wonderful week in New York. Did lots of research for new books, met writing friends, and took pictures of the city in the sun, fog and rain. I love New York. Every street is a story. So is every cafe, subway ride, walk across the Brooklyn Bridge, and visit to a market.
So what's ahead for 2010?
A winter of local presentations, writing and soup and chats with friends over lattes in cozy cafes!
A spring of travel across Canada to Saskatoon and Vancouver and maybe even the East Coast in May. Also a repeat trip to Ottawa in April.
A Youtube for the Canadian Flyer Adventures.
I'm looking forward to it all!
SPRING 2009
Check out these exciting new books!
They'll make you smile and laugh! Read them aloud or to yourself. Guaranteed fun either way.
PICTURE BOOKS
MAGGIE CAN'T WAIT (Fitzhenry & Whiteside) Illustrations by Dean Girrifths
YOU'RE MEAN LILY JEAN (Scholastic, Canada) Illustrations by Kady MacDonald
CHAPTER BOOK
ON THE CASE Canadian Flyer #12 Meet Mountie Sam Steele in the wild WILD West
FRIEDA ON THE ROAD...
It's lucky I love traveling because I did a lot of it this spring. I flew to British Columbia twice, once in late April (and stayed till early May) and then in early June. I also headed to the North Bay area of Ontario and out to Uxbridge, Whitby, Brampton and Mississauga.
I spoke at libraries, schools and at two teacher conferences. I met caring parents at literacy nights and wonderful teachers and librarians, who despite shrinking budgets and limited time, are working tirelessly to connect kids with good books.
I spent two nights at my friend and fellow author, Martha Attema's straw house in North Bay and I'm happy to report her house did NOT blow down. As a matter of fact, it's sturdy and attractive and she has a windmill producing energy in her yard.
Special moments on my school visits:
Kids acting out my mini play using the text of PLEASE, LOUISE.
I never tire of watching how each kid embraces his/her character! I chuckle when I ask a roomful of kids "Who knows how to be annoying?" and hands shoot up into the air. And when I ask, "Who wants to be the dog?" hands wave again. It's obvious that playing a naughty kid or a mischievous dog has great appeal.
I'm now wondering how I'll turn my new picture book, YOU'RE MEAN LILY JEAN (Scholastic) into a play to take "on the road" to schools and libraries. (Hooray! It just received a starred review from "Quill and Quire". They said Lily Jean was deliciously mean and they liked my protagonist's "chutzpah". Translation: cheekiness, audacity.)
This spring I was delighted to win a Silver Birch honor for EVERYTHING BUT THE KITCHEN SINK, Weird Stuff You Didn't Know about Food, co-authored by my friend Elizabeth MacLeod. It was a fun time in Harbourfront. After all, who wouldn't enjoy mobs of kids hooting and cheering for books!
WINTER 2009
The weather in Toronto was snowy, the sky was grey and bleak and the economic news was grim. It was terrific to escape into a story or visit a school to share stories and laughter with kids and staff. So far this winter, I've done a lot of both.
BOOK NEWS
Here's what will be published this year:
CANADIAN FLYER ADVENTURES (Maple Tree Press)
ON THE CASE (#12), takes Emily and Matt back out west, this time, to help Mountie Sam Steele solve a murder investigation.
STOP THAT STAGECOACH (#13) flies them to Montreal in the early 1800s. They meet Thomas O'Brien and his mother who've come to homestead in Ontario. It's a treacherous, bumpy trip.
PICTURE BOOKS
MAGGIE CAN'T WAIT (Fitzhenry and Whiteside)
Dean Griffith's art adds wonderful visual humor to the story of Maggie and her adopted sister. This story is a sequel to GIVE MAGGIE A CHANCE.
YOU'RE MEAN LILY JEAN (Scholastic)
I'm so lucky that the gifted Kady MacDonald Denton illustrated this tale of two sisters who are great friends until flashy Lily Jean moves in next door.
FRIEDA ON THE ROAD...
I visited some terrific schools and the awesome Canadian Aviation Museum in Ottawa hosted me as part of their celebration of the flight of the Silver Dart. FLYING HIGH (Book #5) in the Canadian Flyer Adventure is all about the Silver Dart. I also presented at schools and libraries in Toronto, Pickering, Whitby, Newmarket, Ajax, Cambridge and Markham. In March I'm off to NY to research, walk and discover. That's the magic of NY. There's always something new around every corner.
And later in the spring, I'm off to Streetsville, Uxbridge, B.C. and North Bay for presentations!
Till then...
NEWS FROM 2008—A BUSY TRAVEL AND WRITING YEAR
Five Canadian Flyer Adventures (Maple Tree Press): HURRY, FREEDOM (#7), A WHALE TALE (#8), ALL ABOARD (#9), LOST IN THE SNOW (#10) and FAR FROM HOME (#11) "took flight" to terrific feedback and reviews from kids, teachers, newspapers and magazines.
In the books I sent Emily and Matt off to NY State and Ontario in the mid 1800s, the B.C. coast in the late 1700s, the B.C. interior in the late 1800s, Quebec in the mid 1600s and Halifax and Ontario during World War II. They met famous people like Harriet Tubman, Captain James Cook, and Sanford Fleming. They encountered whales and bears. They were caught in rockslides and blizzards. Emily even met her aunt as a kid (her mysterious Aunt Miranda who left her the magic sled). What fun to imagine that twist on the time-travel concept!
EVERYTHING BUT THE KITCHEN SINK,
Weird Stuff You Didn't Know about Food (Scholastic)
My collaborative book with my friend and fellow author, Elizabeth Macleod also received a fabulous reception. ("Highly Recommended" and a Silver Birch nomination) Liz and I are having a great time chatting about food as we share our book with students and teachers.
A FROG IN MY THROAT (Orca)
My third title in the Kate and Jake chapter books tells how Kate deals with her jealousy over Jake's friendship with his older cousin. I like writing about these two kids!
PLEASE, LOUISE! (Groundwood)
Illustrated with humor and charm by my friend Marie Louise Gay, this book was nominated for the Blue Spruce, Willow Award, TD Book of the Year for Literature and received numerous starred reviews. It was especially exciting to win the Marilyn Baillie Picture Book award at the lovely TD Bank party to honor kids books. In my new maroon dress with my glittery maroon shoes, I felt like a rock star.
2008 was also full of travel-for work and pleasure.
I flew out to Newfoundland for a belated book week tour, trekked out to London Ontario, Kitchener, Barrie, Oakville, Hamilton, Paris, Brantford, Burlington, Stouffville, Whitby, Montreal, North Bay, Halifax, New York and Hawaii. I presented. I researched. I met other writers. I visited historic locations. What could be better? I met wonderful people and snapped lots of photos. They remind me how enriching and joyous a writing life can be, despite all the frustrations (And there are many). It's the people and places both real and imagined that make this work special.