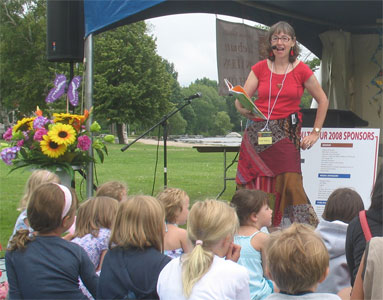 I love sharing writing ideas and books with kids and adults. My background in teaching and educational writing has been invaluable in connecting with kids, teachers and the curriculum.
My talks are lively, interactive and curriculum-linked. I've spoken across Canada, in the U.S. and in the U.K. I love to travel and meet readers everywhere.
I don't speak in the gym but in the library, resource room or classroom. The acoustics and atmosphere in the gym are not conducive to a warm, lively presentation.
I'm happy to speak to groups of 20-120 as long as they fit comfortably in the space. With larger groups, a mike is helpful, especially a headset.
A good author visit has many benefits for students and staff. Librarians report that students flock to the library to take out books after the visit. Students are often keen to read and write more and teachers can tap into that enthusiasm.
"Thank you for inspiring us, touching our hearts and minds."
—Teacher/Librarian, Toronto, catholic school
"The chidren and staff who accompanied them were thrilled by your presentation. Hopefully, we will be able to ask you for a repeat visit with one of our other local schools."
—Don Mills, public library
"Thank you! The children are still elated from last night. Everyone loved your play and you too of course."
—Teacher/Librarian, Toronto, public school
"The comments from teachers were all very positive as they thought you were awesome. Students too were very pumped about your visit."
—Teacher/Librarian, Whitby, public school
"It was a pleasure to hear you talking about your life as an author. You are so great with the kids."
—Pierrefronds Library, Montreal
"Your presentations reflected your years of experience working with children of all ages. There was something for everyone and the books you chose to highlight captured the attention of the students and encouraged them to create their 'own words'."
—Cambridge, public library
Here are some suggestions for "Getting Ready" for my visit and ways to extend the experience:
GETTING READY for Frieda To Present at Your School or Library
My presentations are popular and I often present outside of Toronto. Please contact me as early as possible for mutually convenient dates.
When booking presentations, please let me know the grade, group size, venue and contact information.
I take public transportation outside Metro Toronto so train or bus information is always appreciated and the cost is added to my fee. If two schools book on the same day, that helps reduce costs. Check out the Writer's Union for subsidies for author visits.
I love to sign my books! If students are interested in purchasing books for signing on the day of my visit, please let me know at least a month in advance of my visit for a link to book distributors who can offer an excellent discount.
It enhances a presentation if the students are excited and prepared. A linked activity to one of my books before I arrive is a terrific way to create "buzz" and so is a welcoming sign. If you'd like to involve local media, invite parents, the principal or vice principal that will add to the excitement of the event.
I usually only require a table for props and books and water. A mike when there's a large group is helpful.
On the day of the visit, please have someone on hand to meet and direct me to the presentation space. A check at the end of the presentation is welcome. I'm also happy to take photos with the students or staff.
Here are some specifics about my presentations. This is a general guideline. I'm happy to gear each presentation to the needs of the individual group.
Kindergarten 20 to 30 minutes
I do an interactive presentation of JUST IMAGINE, my alphabet book (Scholastic, Literacy Place).
I read OONGA BOONGA (Scholastic Canada, Dutton, Random House UK) with audience participation and lots of laughs.
Grade 1-3 45 minutes to an hour
We turn PLEASE, LOUISE (Groundwood) or another picture book into a play.
I share how I develop ideas for stories from my own life. I encourage students to think of their own lives and their own stories.
We rhyme some of my books and poems together. We talk about how and when rhyme works.
I talk about how I use history in my time travel series, the Canadian Flyer Adventures. Students share their new ideas for the series.
We have a lively Q & A.
Grade 4 and up 45 minutes to an hour
I share how you can turn personal experiences into stories, while showing pictures from my childhood and explaining how I find story ideas by "remembering".
We discuss how to research non-fiction and historical fiction and then turn that into lively writing.
We talk about how you can work on a project with a partner (As I did for EVERYTHING BUT THE KITCHEN SINK, Scholastic).
We have a lively Q & A.
Hands-on Writing Workshop for Students and Adults one hour and up
I guide students through the writing process from brainstorming ideas, to writing an outline (and why it helps to write one), to research, opening strong, ending with a punch and writing clearly. We talk about plot, characters, theme and the importance of revision.
Then we write together and share some of what we've written.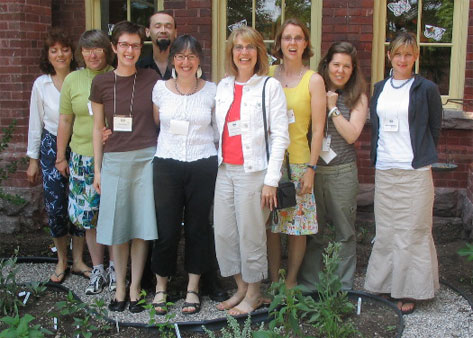 Conferences
I enjoy sharing my experiences and expertise as a writer and educator with adults.
I've spoken at: BookFest Nanaimo, Montreal Young Authors, Reading Recovery Conference, Thin Air, Packaging Your Imagination, SCBWI Fall Retreat and lots more...
I've talked about:
How to Write with a Buddy
Many Ways To Tell a Story
Each Child a Storyteller
The Power of Stories in a Changing World
Writing a Series
I Remember: Discovering Stories Through Personal History
and more....
AFTER MY PRESENTATION — Extending the Fun and the Excitement!
I'm delighted to discuss specific ways teachers and librarians can extend the enthusiasm and interest in books and writing that an author visit generates.
Please check out the designated Maple Tree Canadian Flyer Adventure site for easy-to-use, curriculum-linked activities.
AND TRY THESE!
Here are ten general activities that can be adapted for use with fiction or biographies:
1. Imagine you can invite any character (or subject) in a book over to your house to play, chat, have dinner or just hang out. Who would it be? Why?
2. Turn a story into a play. Find props. Make them simple or elaborate. Use the actual words in the story in your dialogue. Act the play out for your class.
3. Pick a picture book and see how an illustrator adds information, humor, and even extra characters to the words of a story. List five visual additions the illustrator has made to the words.
4. Pick five verbs from a book and substitute another verb of your own choosing. e.g. walk- stroll. Which verb works better the one in the book or yours? Why?
5. Imagine you and one of the characters (or subjects) in a book are pen pals. Write a letter telling about yourself and asking the character questions about his/her life. Use information from the book to help you.
6. Create a mural or a collage based on a book.
7. Make a plasticine scene from a book in a box.
8. In your own words write a short description of all the main characters (or subjects) in a book. e.g. Jennifer Jones is annoying, friendly, affectionate and noisy.
9. Find five adjectives from a book. Use them in a sentence of your own.
10. Make-up an advertisement for a book. For example: Will Baby Louise ever stop crying? Read OONGA BOONGA and find out.