SERIES FICTION:
CANADIAN FLYER ADVENTURE SERIES
Books 1-8 illustrated by Dean Griffiths
Books 9-11 illustrated by Leanne Franson
Books 12-14 illustrated by Jean-Paul Eid
Books 15-17 illustrated by Patricia Ann Lewis-McDougall
Maple Tree Press
Best of the Year: Resource Links
Starred review: Best Books for Kids and Teens, Canadian Children's Book Centre
Highly recommended: CM Magazine
A LITTLE ABOUT THE SERIES...
Transported back through time on the magic Canadian Flyer, an antique red sled, Emily Bing and Matt Martinez experience the past firsthand. Each thrilling adventure takes them to a different part of the country at a fascinating point in history. The resourceful and inquisitive kids find themselves face-to-face with dinosaurs, pirates, gold miners, Vikings, and more. Share in the excitement of each fast-paced adventure, and pick up fascinating historical tidbits woven into every story.
Check out the curriculum-linked, fun activities for each of the Can Flyer Adventures at Maple Tree Press.
WHAT THE CRITICS SAY...
"The Canadian Flyer Adventures series is a wonderful addition to literature for younger students; ...fast-paced, and exciting, complements perfectly the themes of Canadian history taught in the classroom...How wonderful to find a series that is both educational and full of adventure!"
— Resource Links
"If you can turn moments from the past into heart-pounding adventure stories, you'll hook children on history for life. That's what this time travel series by Toronto's Frieda Wishinsky does so well...This series is like a well-taught history class: engaging, smart, and full of surprises."
— The Chronicle Herald
"This wonderful new Canadian historical adventure series combines magic and history to whisk young readers away on adventure...A fun way to learn about Canada's past."
— BC Parent
"Readers will become fans very quickly and will be anticipating the next trip to the dresser just as much as do Emily and Matt. This entire series should be in every Canadian library."
— CM: Canadian Review of Materials
"This series would make a great read-aloud choice for parents or teachers, and readers will have a hard time putting the books down...a very welcome addition to the historical fiction genre and provides a much-needed Canadian perspective."
— CM Magazine


And now for the books!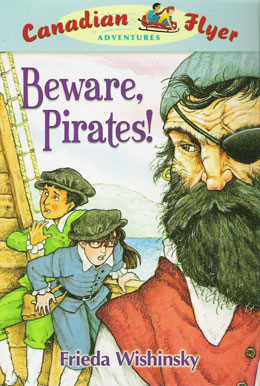 #1 BEWARE, PIRATES!
ISBN: 978-1-897066-79-9 (bound)
ISBN: 978-1-897066-80-5 (pbk)
In this exciting debut title, we meet Emily and Matt, and are transported back in time with them to the year 1577. Matt and Emily find themselves aboard Martin Frobisher's ship The Aid, anchored in Frobisher Bay. Adventure beckons!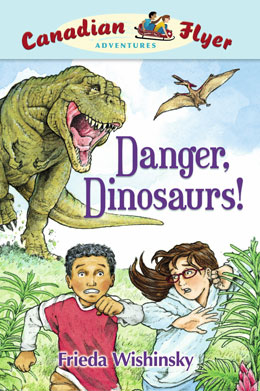 #2 DANGER, DINOSAURS!
ISBN: 978-1-897066-81-2 (bound)
ISBN: 978-1-897066-82-9 (pbk)
This second title in the series fulfills every child's fantasy of getting up close with a dinosaur — well, maybe not quite this close! It's off to the Cretaceous period, in the Alberta Badlands. Maiasaura, Lambeosaurus, and T-rex, oh my!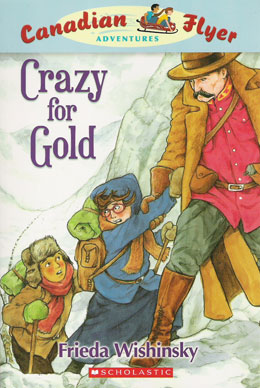 #3 CRAZY FOR GOLD
ISBN: 978-1-897066-92-8 (bound)
ISBN: 978-1-897066-93-5 (pbk)
It's the late 1800s and gold rush fever has taken hold. Matt and Emily join the Klondike gold rush for a rich adventure. Will they find gold or lose their shirts? The people are colorful, the land is rugged, and this adventure is unlike anything else Matt and Emily have ever experienced.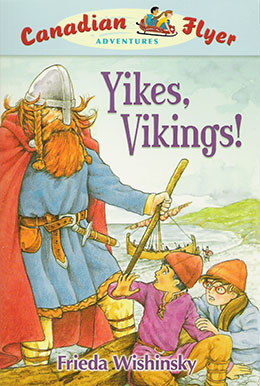 #4 YIKES, VIKINGS!
ISBN: 978-1-897066-96-6 (bound)
ISBN: 978-1-897066-97-3 (pbk)
Matt and Emily have the incredible experience of joining the famous Viking Leif Eriksson and his crew on their historic journey to Vinland in the year 1001. The kids' ingenuity saves the day when crew members get lost in the new land.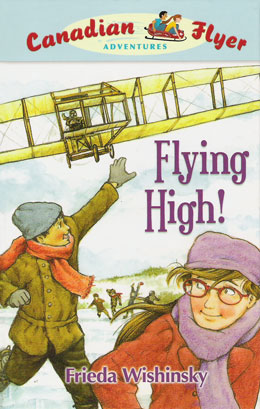 #5 FLYING HIGH!
ISBN: 978-1-897066-98-0 (bound)
ISBN: 978-1-897066-99-7 (pbk)
On February 23, 1909, before a crowd of astonished onlookers, Alexander Graham Bell's Silver Dart took flight. Emily and Matt are on hand and caught up in the thrill of witnessing this amazing story of first flight in Canada.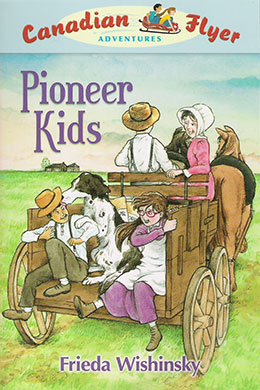 #6 PIONEER KIDS
ISBN: 978-1-897349-04-5 (bound)
ISBN: 978-1-897349-05-2 (pbk)
Emily and Matt arrive on the Canadian Prairies in 1910. They visit a one-room schoolhouse where they try to help a new friend deal with a classroom bully. But when a raging fire erupts, it's Emily and Matt who need rescuing!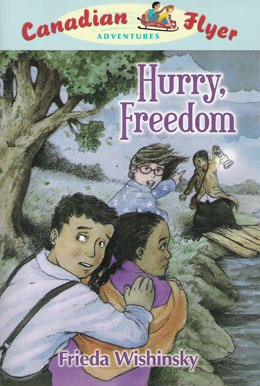 #7 HURRY, FREEDOM!
ISBN: 978-1-897349-14-4 (bound)
ISBN: 978-1-897349-15-1 (pbk)
The Canadian Flyer takes Emily and Matt on their most important journey yet — to the Canada-U.S. border in 1858 to travel along the Underground Railroad. They befriend famous abolitionist Dr. Alexander Ross and a group of runaway slaves he's helping escape to Canada. With slave catchers in close pursuit, will Emily and Matt be able to help their new friends cross the Niagara River to safety?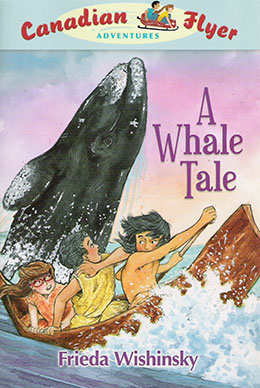 #8 A WHALE TALE
ISBN: 978-1-897349-16-8 (bound)
ISBN: 978-1-897349-17-5 (pbk)
It's 1778, and the sled takes Matt and Emily to the west coast, where they meet a Nootka boy about their age. When he takes them out in a canoe they get close (too close!) to a grey whale. Their actions raise the ire of the Nootka chief, who has enough to deal with, with a visit from Captain Cook that coincides with the kids' visit.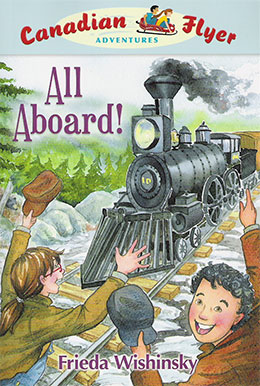 #9 ALL ABOARD!
ISBN: 978-1-897349-38-0 (bound)
ISBN: 978-1-897349-39-7 (Pbk)
Emily and Matt are excited to land on an old train. What's more, this one's heading for Craigellachie, British Columbia, where the last spike will be driven into the rails celebrating the completion of the Canadian Pacific Railroad. Will Emily and Matt make it in time for that historic occasion? Hop on the rails and explore another exciting piece of Canada's past with Matt and Emily.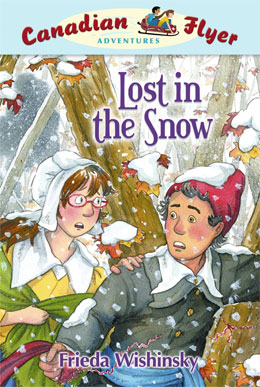 #10 LOST IN THE SNOW
ISBN: 978-1-897349-40-3 (bound)
ISBN: 978-1-897349-41-0 (pbk)
Matt and Emily are off to Quebec in the mid-1600s. There they meet Marie, whose father is about to marry one of the filles du roi, the women the King of France is encouraging to go to Quebec to marry settlers. Marie doesn't want a new mother. Distraught, she stomps out of her house as heavy snow begins to fall. Emily and Matt race out to follow Marie. Can they find her before she's lost in the snow?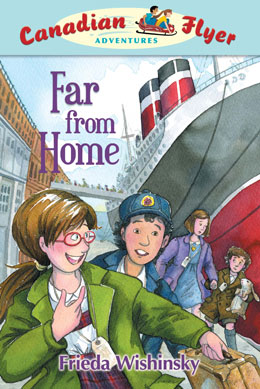 #11 FAR FROM HOME
ISBN: 978-1897349-42-7 (bound)
ISBN: 978-1897349-43-4 (pbk)
Matt and Emily meet Kate and her brother John on a ship carrying World War II evacuees from Britain.The siblings are worried about their family in England and then John disappears. Can Emily and Matt help find John and help both kids adjust to life in Canada?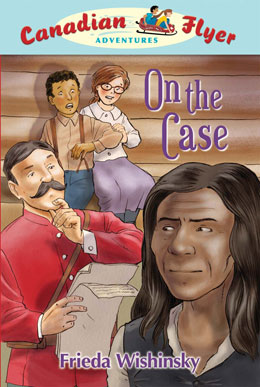 #12 ON THE CASE
ISBN: 978-1-897349-54-0 (bound)
ISBN: 978-1-897349-55-7 (pbk)
Matt and Emily land in a rough, tough western town simmering with tension between the Ktunaxa people and settlers. Will they be able to help Mountie Sam Steele clear two innocent men charged with murder, and stay out of danger themselves?
#13 STOP THAT STAGECOACH!
ISBN: 978-1-897349-62-5 (bound)
ISBN: 978-1-897349-63-2 (pbk)
Emily and Matt experience the hardship of pioneer life as they travel through the wild of Upper Canada. They encounter uncharted forests, untamed rivers and rough roads. Will they be able to endure the trip and help their new friend, Thomas, get his mother safely to their homestead before she has her new baby?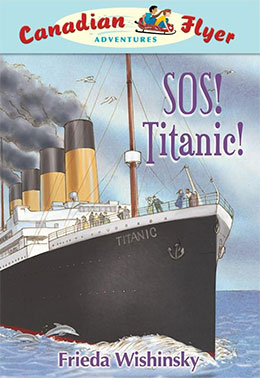 #14 SOS! Titanic!
Owlkids, 2010
ISBN 978-1897349-77-9 (bound)
ISBN 978-1897349-78-6 (pbk)
Friends Matt and Emily land on the Titanic hours before it hits an iceberg. Can they save the ship by telling the captain of its fate?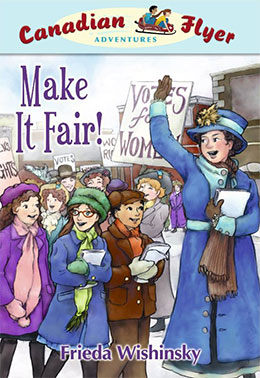 #15 MAKE IT FAIR
Owlkids, 2010
ISBN 978-1-897349-98-4 (bound)
ISBN978-1-897349-99-1 (pbk)
As winter blasts through Winnipeg in 1914, Emily and Matt join forces with activist Nellie McClung in the flight fro women's right to vote. Will they stand up to bullies and fight for what's right?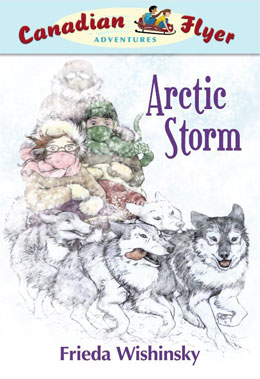 #16 ARCTIC STORM
Owlkids, 2011
ISBN 978-1926818-09-2 (bound)
ISBN 978-1-926818-10 (pbk)
The time-traveling sled takes Emily and Matt to a remote area where they meet wildlife scientists who are stranded in a snow storm with a sick boy and are missing a dog from their sled team.
#17 HALIFAX EXPLODES
Owlkids, 2011
ISBN 978-1-926818-97-9 (bound)
ISBN 978-1-926818-98-6 (pbk)
It's 1917 and a terrible explosion has left Halifax in smoking ruins. Now it's up to Emily and Matt to help a young soldier find his lost little sister. Can they sort through the wreckage and reunite the pair?
JAKE AND KATE BOOKS
all illustrated by Louise-Andrée Laliberté
Orca Echoes
Chapter Books for kids in grades 1-3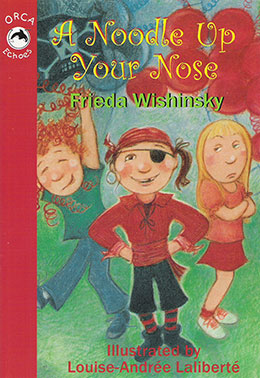 A NOODLE UP YOUR NOSE
2004
ISBN 1-55143-294-3
Winner: Great Book Canadian Toy Council
Nominated: Willow Award
Highly Recommended: CM Magazine
A LITTLE ABOUT...
Kate can't wait for her birthday party but her parents want her to invite everyone, even bossy Violet. Will Violet ruin her plans? Will Kate's best friend, Jake stick by her?
WHAT THE CRITICS SAY...
"A Noodle Up Your Nose has an engaging story with which new readers can easily identify.. Chapters are short, ranging between three to five pages, and no more than two full pages of text can be found without the appearance of one of Louise-Andrée Laliberté's full or half-page black and white cartoon-like illustrations which effectively capture a chapter's mood or an appropriate moment which reveals character."
— CM Magazine
"Wishinsky vividly captures the small but excruciatingly significant moments in a young child's school life-exclusion and redemption, the bruising of bullies, the warm support of families."
— Canadian Children's Book News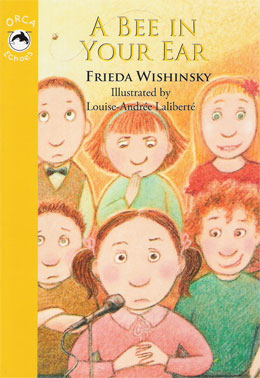 A BEE IN YOUR EAR
2004
ISBN 1-55143-325-9
Highly Recommended: CM Magazine
A LITTLE ABOUT...
Kate is determined to win the grade two spelling bee. Her best friend Jake encourages her to participate in the contest and helps her practice the spelling words. Slowly the spelling bee contestants are eliminated, and Jake and Kate are left to compete against each other
WHAT THE CRITICS SAY...
"...young readers are creatively exposed to examples of homonyms, silent letters, and mnemonic devices such as making sentences from letters."
— CM Magazine
"This delightful story is written as a simple book for beginning readers. The dialogue is natural and flows easily. The conversations and thoughts ring true for any student..."
— Resource Links
"Kids will zip through the 60 plus pages to find out what happens--and be rewarded with clever dialogue, familiar school situations and lively action."
— Children's Literature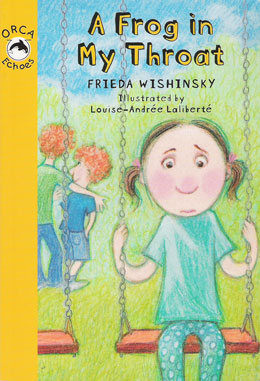 A FROG IN MY THROAT
2008
ISBN 978-155143-632-6
A LITTLE ABOUT...
Kate and Jake have always been best friends; always, that is, until Jake's cousin, Lionel moves nearby and Jake starts spending time with him instead. Kate struggles with his abandonment and her own loneliness as she seeks new friends that share her likes and dislikes. And, perhaps there is a place in her life for her old best friend after all.
NON-SERIES FICTION: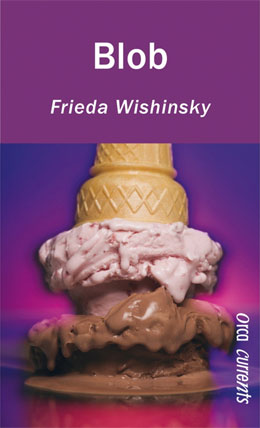 BLOB
Orca, 2010
ISBN 978-1-55469-181-4
Highly recommended—CM magazine
A LITTLE ABOUT...
Starting a new high school couldn't be worse for Eve. She's gained weight over the summer and her best friend is avoiding her as she becomes the target of a bully. Will anyone hang out with her is Eve to a horrible year alone?
WHAT THE CRITICS SAY...
"Readers will devour Blob in the same way Eve devours chocolate bars: after a taste you won't be able to stop until it's finished. Blob should be required reading for tween and teenage girls, or anyone who has ever been a teenager."
— CM Magazine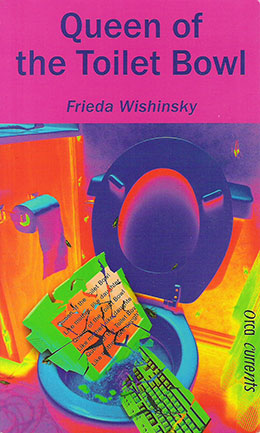 QUEEN OF THE TOILET BOWL
Orca Currents, 2006
ISBN: 1-55143-555-1 (bound)
ISBN: 1-55143-364-8 (pbk)
A LITTLE ABOUT...
When Renata is chosen to play the lead role in the school musical, students who used to ignore her start saying hello and congratulating her in the hall. She is happy until it becomes evident that Karin, a wealthy girl who expected to get the lead role, will go to great lengths to ruin Renata's reputation.
Watch a review of QUEEN OF THE TOILET BOWL on YouTube.
WHAT THE CRITICS SAY...
"...appealing plot. Teachers and librarians can make good use of them to entice less-skilled readers."
— School Library Journal
"The straightforward, uncomplicated plot is told in short chapters, moving the story along at a fast clip and helping to make it a good choice for reluctant readers."
— Kliatt.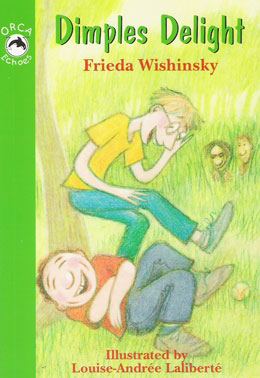 DIMPLES DELIGHT
Illustrated by: Louise-Andrée Laliberté
Orca Echoes, 2005
ISBN: 1-55143-362-1
Resource Links: Best of 2006
A LITTLE ABOUT...
Lawrence hates being teased about his dimples, but nothing he does seems to make any difference. Joe goes right on teasing him, and the teasing gets meaner and meaner. Finally, Lawrence notices something about his friend Stewart that may provide the tool he needs to tease-proof himself once and for all.
WHAT THE CRITICS SAY...
"Wishinsky has once again written a beautiful book about the difficulties of childhood."
— Resource Links
"This book was a great way to address the issues of school bullies and how to deal with teasing and name-calling."
— Children's Literature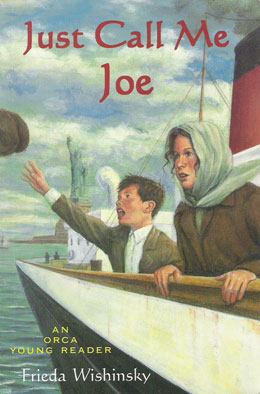 JUST CALL ME JOE
Orca Books, 2003
ISBN: 1-55143-249-8
Nominated: CLA Book of the year
Nominated: Red Cedar
A LITTLE ABOUT...
Life in New York City in the early twentieth century is tougher than Joseph ever dreamed it would be.
WHAT THE CRITICS SAY...
"Grade 2-4-This easy chapter book presents a touching look at life in 1910 New York City through the eyes of a 10-year-old who has just emigrated from Russia. Joseph and his 17-year-old sister, Anna, are staying with their Aunt Sophie in her Lower East Side apartment. Joseph, who is placed in first grade because he doesn't speak English, yearns to make friends with boys his own age, and he gets involved with bullies who cut class and steal. Simple but poignant full-page pencil drawings accompany the text. A valuable resource for children studying immigration or the history of New York City."
v From School Library Journal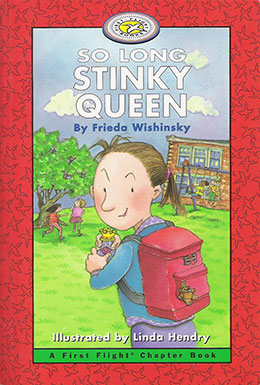 SO LONG STINKY QUEEN
Illustrated by Linda Hendry
Fitzhenry & Whiteside, 2000
A First Flight Chapter Book
ISBN 1-55041-529-8
A LITTLE ABOUT...
The school year is not starting our well for Samantha because her classmate, Evelyn, is acting mean. Things start looking up when Samantha meets Ruthie, the new girl in school. That is, until Evelyn pushes her way into their games of make-believe and Samantha is left out again. Someone has to teach Evelyn a lesson...
WHAT THE CRITICS SAY...
"A funny and sympathetic story of friendship and playground politics."
— Children's Book News CCBC
"Wishinsky obviously has inside knowledge about school relationships."
— The Star Phoenix
"The plot is fast-paced, with plenty of character interaction and easy-to-handle vocabulary."
— CM Magazine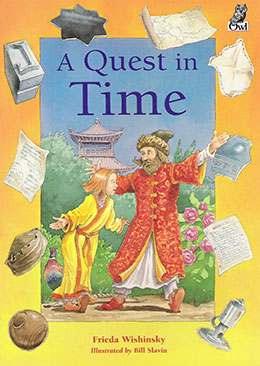 A QUEST IN TIME
Illustrated by Bill Slavin
Maple Tree Press, 2000
ISBN: 1-894379-07-1 (bound)
ISBN 1-894379-08-X (pbk)
A LITTLE ABOUT...
When Lisa opens the battered trunk left by her beloved uncle, an archaeologist, she has no idea what adventures are in store for her.
WHAT THE CRITICS SAY...
"A fun introduction to history for kids."
— Burlington library
"Bill Slavin's watercolours add their own allure to this interesting historical sweep."
— Globe and Mail
"This book is filled with interesting historical facts and stories that are told in a way that will capture the interest of many young children and parents."
— Children';s Literature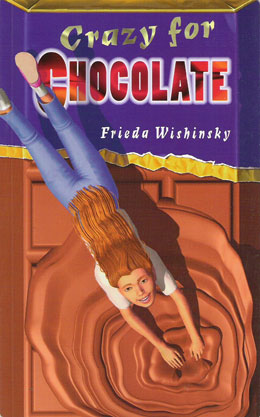 CRAZY FOR CHOCOLATE
Illustrations By Jock McRae
Scholastic, 1998
ISBN 0-590-12397-1
Translated into French
A LITTLE ABOUT...
When Anne has to do a school project, she picks a delicious subject-chocolate! Then she gets a mysterious CD-ROM, and with a click of the mouse she's traveling in time: arguing with Columbus, sipping cocoa with a queen, tasting the world's first chocolate chip cookie. It's the greatest chocolate adventure ever!
WHAT THE CRITICS SAY...
"The story is action-packed and written with a fine sense of economy that will keep readers interested."
— Ottawa Citizen
"Readers will be engaged and intrigued by the situations and difficulties Anne encounters."
— Quill & Quire
"An entertaining adventure tale about a girl who finds out everything there is to know about the world's favorite treat from a mysterious CD-Rom that takes interactive learning to extremes."
— Owl Canadian Family