New Books
JUST PUBLISHED! (Yeah!)
Check them out!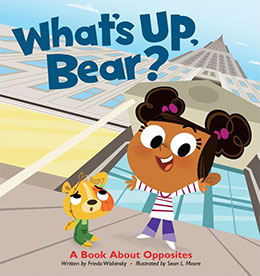 WHAT'S UP BEAR?
A Book About Opposites
Illustrated by Sean L. Moore
Owlkids, 2012
ISBN 978-1-926973-41-8
Nominated: B.C. Book Award, Chocolate Lily Award
A LITTLE ABOUT...
Bear and Sophie are visiting New York City. Sophie is excited. Bear is not. Join these two friends as they explore the big city, one pair of opposites at a time.
WHAT THE CRITICS SAY
"Throughout, readers will be captivated by both Sophie's and Bear's facial expressions; Sophie's exuberance is obvious, while the patched and well-loved Bear looks like he might lose his lunch after riding the subway. Where will the lovable Bear and his best friend travel next?"
—Kirkus Reviews
"Moore's crisp digital cartoons capture both the duo's fluctuating emotions and the energy of the city."
Publishers Weekly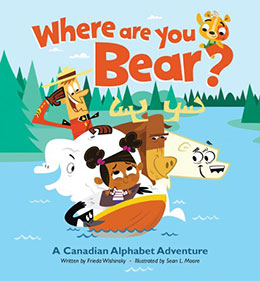 WHERE ARE YOU BEAR?
A Canadian Alphabet Adventure
Illustrated by Sean L. Moore
Owlkids, 2010
ISBN 978-1-897349-91-5
Nominated: Chocolate Lily Award
A LITTLE ABOUT...
A...B...C...spells adventure! Follow Sophie and Bear on a madcap journey across Canada and through the alphabet.
WHAT THE CRITICS SAY
"A multifaceted, educational book that both children and parents will want to read again and again."
—Suite101.com
"... now that I have read [Where Are You, Bear?] I think it's my favorite alphabet book of all."
Word of Mouse Book Reviews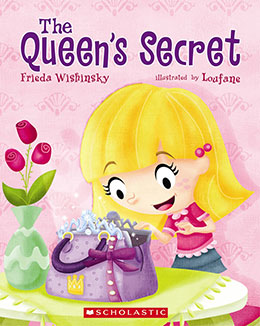 THE QUEEN'S SECRET
Illustrated by Loufane
Scholastic Canada, 2010
ISBN 978-0-545-98685-4
Starred review: "Quill and Quire"
Best Bets: OLA
A LITTLE ABOUT...
Day after day Kate wonders what's in the queen's purse, till one day she finds out.
WHAT THE CRITICS SAY
"Add this one to any stack of bedtime favorites."
—Quill & Quire, starred review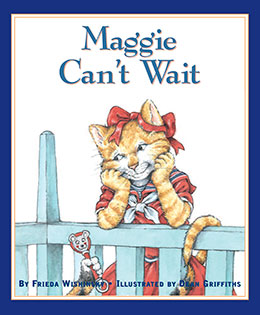 MAGGIE CAN'T WAIT
Illustrated by Dean Griffiths
Fitzhenry & Whiteside, 2009
ISBN 978-1-55455-103-3
A LITTLE ABOUT...
Maggie can't wait to show her friends the picture of her soon-to-be adopted sister, but she is mortified by their reaction. Maybe the baby is as ugly as they say. Maybe her parents shouldn't adopt that baby after all. But could it be that beauty is in the eye of the beholder?

A delightful sequel to Give Maggie a Chance, Maggie Can't Wait again features the little girl with the big imagination as she dreads the arrival of a new adopted sister.
WHAT THE CRITICS SAY
"Maggie's disappointment and joy are skillfully captured in words and images by this talented team who both seem to understand exactly how a child feels."
—Canadian Teacher Magazine
"Wishinsky is a skilled storyteller, with a gift for believable language and situations."
—Quill & Quire, Starred Review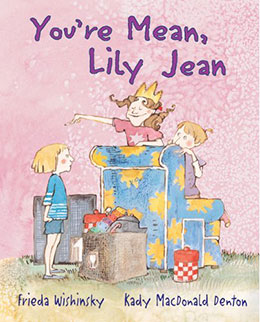 YOU'RE MEAN, LILY JEAN
Illustrated by Kady MacDonald Denton
North Winds Press (An imprint of Scholastic, Canada), 2009
Also available in French
ISBN 978-0-545-9949-6
Selected: First and Best, Toronto Public Libraries
Nominated: Blue Spruce Award
A LITTLE ABOUT...
Carly and her big sister Sandy always play together. Then bossy Lily Jean moves into town. Lily Jean orders Carly to be the baby when they play house, the cow when they play cowgirls and the dog when they play King and Queen. How will Carly stop Lily Jean from telling them what to do? Can Carly and Sandy still be Lily-Jean's friend or is Lily-Jean just too much?
WHAT THE CRITICS SAY(already!)
"The world of make-believe can be all-consuming for young people, and this book does a stellar job of exploring this theme...Lily-Jean is mean. But deliciously so."
— Quill & Quire, Starred Review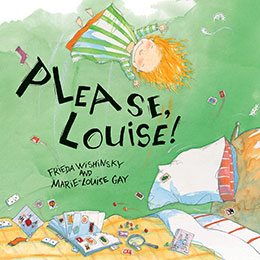 PLEASE, LOUISE!
Illustrated by Marie-Louise Gay
House of Anansi/Groundwood Books, 2007
ISBN-10: 0888997965
ISBN-13: 978-0888997968

Translations: Gottmer (Netherlands) Brinque-Book (Brazil) Dominique et Compagnie (French)
Winner: Marilyn Baillie Picture Book Award
Nominated: TD Canadian Children's Literature Award
Nominated: Shining Willow Award, Saskatchewan Young Readers' Choice
Nominated: Blue Spruce, Ontario Library Association
Starred review: Best Books for Kids & Teens, Canadian Children's Book Centre
Children's Book of the Year, Quill & Quire
Selected: First & Best, Toronto Public Library
A LITTLE ABOUT...
Louise refuses to leave her big brother Jake alone. Jake tries everything to make her go away but Louise is an irresistible force, determined to be as close to her brother as she possibly can. When Jake, in desperation, wishes Louise were a dog, he is suddenly faced with a terrifying possibility. Louise is gone and a little dog seems to be in her place. Can his wish have come true?
WHAT THE CRITICS SAY...
"...Wishinsky presents a common family problem with humorous, understated dialogue. ... Warm-hearted and funny, this is a very fine picture book, with a great match between illustration and text."
— Quill & Quire, Starred Review
"Children will recognize themselves at both ends of the sibling affection scale, from the enthusiastically affectionate Louise to the reluctantly caring Jake in a story that unfolds with surprise and wit. Bypassing the sappiness trap, Wishinsky creates a happy ending for both characters. Terrific for reading aloud."
— Booklist
"...an incisive slice-of-life tale. Snappy dialogue and whimsical watercolor, pencil and collage art capture Jake and Louise's distinct personalities as well as their very recognizable sibling relationship."
— Publishers Weekly
"...both tender and true..."
— Globe and Mail
"...the pairing of Frieda Wishinsky and Marie-Louise Gay is more than mildly perfect... In Please, Louise! Wishinsky zeroes in on the problem of siblings who want to follow you everywhere you go... It smacks of the truth, but does it in an entirely pleasing manner. Two thumbs way up."
— School Library Journal Online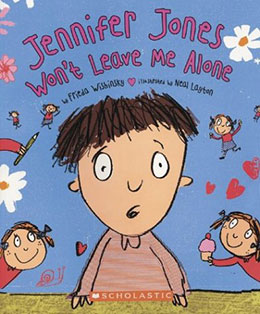 JENNIFER JONES WON'T LEAVE ME ALONE
Illustrated by Neal Layton
Random House UK, 2003
ISBN 13579108642

Scholastic Canada
ISBN: 0-439-96981-6 (pbk)

Carolrhoda (Lerner)
ISBN: 0-87614-921-2 (bound)


Translations: Gottmer (Netherlands), Kinderland (Korea) Aposrof (Denmark)
Winner: Portsmouth Book Award (UK)
Winner: Stockport Schools' Book Award (UK)
Winner: Sheffield Children's Book Award, Picture Books Category (UK)
A LITTLE ABOUT...
A heart-warming story about boys, girls... and friendship.
WHAT THE CRITICS SAY...
"Wishinsky's (previously teamed with Layton for Nothing Scares Us) pithy rhymes spark Layton's pleasingly dizzying cartoons. His scratchy ink line brings a comic spontaneity and edginess to every scene, and succinctly conveys the boy's emotional writhing at the very thought of being the object of Jennifer's crush."
— Publishers Weekly
"With compassion and humour, Wishinsky's book deals with the difficult issue of feelings and opposite sex friendships in elementary grade children. The children in the friendship are ultimately portrayed as being courageous by not succumbing to peer pressure and for acknowledging their friendships."
— CM Magazine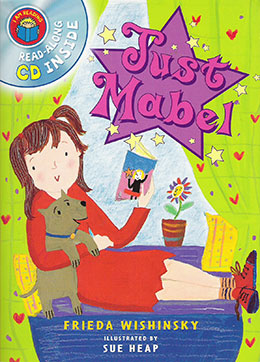 JUST MABEL
Illustrated by Sue Heap
Kingfisher, 2006
part of the I AM READING series
ISBN: 978-0753457429
A LITTLE ABOUT...
Two easy-to-read stories about spunky Mabel and how she copes with bullies and teasing.
WHAT THE CRITICS SAY...
"Bright, engaging illustrations, both simple and evocative, add depth and emotion to the story."
— Children's Literature
"The splashy, cartoon illustrations do an excellent job of supporting the narratives. Edgier and more interesting than the titles in the 'Hello Reader' series (Scholastic), these books are solid additions."
— School Library Journal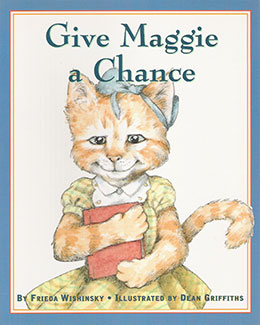 GIVE MAGGIE A CHANCE
Illustrated by Dean Griffiths
Fitzhenry & Whiteside
ISBN: 1-55041-682-0 (bound)
ISBN: 1-55041-704-5 (pbk)
Nominated: Tiny Torgi Print Braille Literary Award, Canadian National Institute for the Blind
Nominated: Blue Spruce Award, Ontario Library Association
Nominated: Chocolate Lily Award, British Columbia
A LITTLE ABOUT...
Now that she can read, Maggie is eager to show her new teacher. But when Maggie is called to the front of the class, her knees shake like jelly, her mouth dries up like a desert, and she can't utter a sound. She's forced to sit down while snooty Kimberly takes over and reads with ease. Will Maggie summon up the courage to show everyone what she can really do?
WHAT THE CRITICS SAY...
"This lovely book will resonate with many schoolchildren...Wishinsky's well-crafted text uses rhythms of the folktale - a classic genre for underdog stories - to increase dramatic tension, particularly in its repetition of threes Dean Griffiths' wonderful illustrations perfectly capture the strong emotions of the story...This is a book that will surely be popular with children struggling with their own Kimberlys at school."
— Quill and Quire
"Readers will sympathize with Maggie's dilemma because there always seems to be a 'Kimberly' in each classroom...This book will serve as a good example to struggling students not to give up but to keep trying... This would be a good book to use in classrooms to start a discussion about teasing with young primary students."
— CM Magazine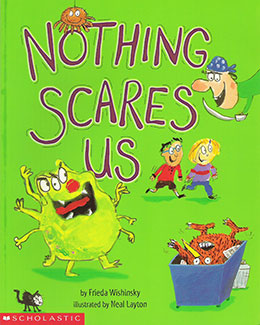 NOTHING SCARES US
Illustrated by Neal Layton
Bloomsbury, 2000
ISBN: 0-7475 46797 (bound)

Scholastic
ISBN: 0-439-97479-8

Carolrhoda (Lerner)
ISBN: 1-57505-490-6 (bound)

Translations: BonnierCarlsen (Sweden)
Book of the Week London Sunday Times (UK)
IRA/CBC Children's Choice
Best of Children's Fiction, Yorkshire Libraries (UK)
A LITTLE ABOUT...
Lucy and Lenny are best friends who are ready for any adventure.
"We are the fearless two," sings Lenny.
"Nothing and no one scares us," sings Lucy.
Then one day they discover the Creature on TV, and Lucy is scared. How can she tell Lenny?
A bright and imaginative story about fears and friendship.
WHAT THE CRITICS SAY...
"This book deals with the sensitive topic of fears in a humorous and reassuring manner"
— School Library Journal
"A warm-hearted tale of fears overcome and supportive friendship."
— Books for Keeps
"Neal Layton's riotously colorful, childlike drawings perfectly match Wishinsky's flawless channeling of childhood fear."
— Macleans
"Enchanting"
— The Times (UK)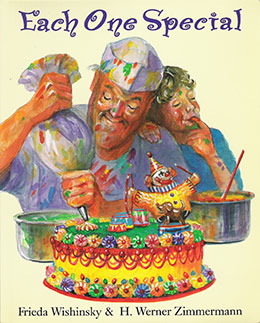 EACH ONE SPECIAL
Illustrated by Werner Zimmermann
Orca Books, 1998
ISBN: 1-55143-122-X (bound)
ISBN: 1-55143-124-6 (pbk)
Winner: Tiny TORGI (Print Braille Book of the Year) Award
Nominated: Washington Children's Choice Award
Nominated: Governor-General's Award
A LITTLE ABOUT...
Ben's pal Harry is a cake decorator extraordinaire, revered for his fabulous creations. Every cake is a work of art; no two are alike. But one day the bakery is sold and the new owners don't want Harry or his unique creations. They want lots and fast, not different and special.

A funny and touching tale, Each One Special celebrates the power of friendship to rejuvenate the soul and ignite the creative spirit.
WHAT THE CRITICS SAY...
"Full of energy and charm, blessed with two wonderful characters, this book gets everything right."
— The Globe and Mail
"...a touching story about the relationships that can be fostered between younger and older generations."
— Resource Links
"a happy, up-beat story with a thoughtful edge."
— The Toronto Star
"...this excellent book can serve as an effective springboard for discussion about how a child might go ahead exploring her or his unique talents and abilities."
— Washington Children's Choice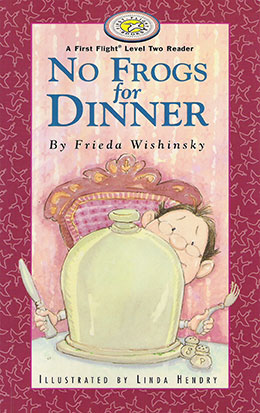 NO FROGS FOR DINNER
Illustrated by Linda Hendry
Fitzhenry & Whiteside, 1999
ISBN 1-55041-519-0 (bound)
1-55041-521-2 (pbk.)
100 Best Books, Toronto Public Library
A LITTLE ABOUT...
Melvin's trip to the big city is not turning out as he hoped. Instead of hot-dogs, baseball and tall buildings, his Aunt Rose drags him to the opera, museums and fancy restaurants. Melvin must find a way to curb his aunt's enthusiasm long enough to have some real fun.
WHAT THE CRITICS SAY...
"Early readers don't get much better than this."
— CBRA
"This attractive early reader is convincing, humourous and works equally well as a picture book."
— The Toronto Star
— Praised on CBC's Morningside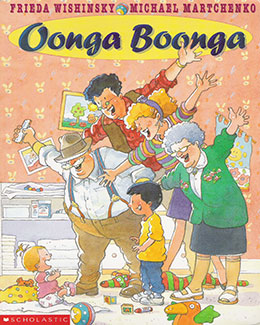 OONGA BOONGA
Illustrated by Michael Martchenko
Scholastic Canada, 1998
ISBN: 0-590-12460-9 (pbk)
Illustrated by Carol Thompson
Dutton, 1999
ISBN: 0-525-46095-0 (bound)

Doubleday
ISBN: 0 385 409451 (bound)
ISBN: 1 357 9108642 (pbk)

Translations: Forlaget Sesam (Denmark) Juventud (Spain)
Pick of the List, American Bookseller
A LITTLE ABOUT...
In this irresistible picture book, nobody can make baby Louise stop crying. When big brother Daniel comes home from school, he knows exactly what to do. He bends over Louise and whispers the magic words: "Oonga boonga." Miraculously, Louise's tears are replaced by a toothless grin! Only Daniel knows the secret to making her happy.
WHAT THE CRITICS SAY...
"This joyful book, with illustrations that portray the charm of the exuberant goings-on, celebrates the relationship only siblings can have. Naturally, when Daniel comes home again and plops his baby sister in his lap, this time whispering 'bunka wunka,' Louise finds comfort once more."
— Booklist
"A witty tribute to the exceptional and often inexplicable connection between siblings. Thompson's eloquent illustrations reflect both the comical and endearingly tender facets of the tale, providing a sparkling counterpart to Wishinsky's vivacious text."
— Kirkus Rreviews