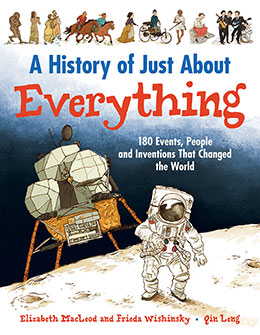 A HISTORY OF JUST ABOUT EVERYTHING
Kids Can Press, 2013
ISBN 978-1-55453-775-4
Nominated: Hackmatack, Canadian Science Writers Best Youth book
Highly Recommended: CM
Best Books Bank Street College
A LITTLE ABOUT...
A History of Just About Everything is an engaging overview and comprehensive timeline of human history. It does what no Internet search can — it makes connections. Its unique Ripples feature explores the ongoing impact of key events, inventions and people.
WHAT THE CRITICS SAY...
"They have taken the difficult task of distilling the most pertinent facts about the event, person or discovery and explain them in kid-friendly language that readers will comprehend easily."
— CM Magazine
"Compact and surprisingly complete, this volume is a superb introduction."
— School Library Journal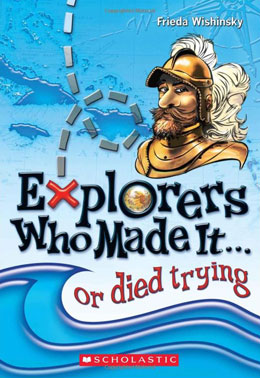 EXPLORERS WHO MADE IT...or died trying
Scholastic Canada, 2011
ISBN 978-1-4431-0010-6
Nominated: Silver Birch, Hackamatack, Red Cedar, Rocky Mountain
A LITTLE ABOUT...
Why did explorers risk their lives to climb mountains, sail unknown seas or venture into the coldest continents on Earth? Was it for the sake of science or curiosity, fame or fortune? Students will enjoy reading about 12 different explorers, and the critical events that made them into historical figures, in this fun, yet informative, book. Hilarious illustrations and sidebars help make learning history memorable and enjoyable.
WHAT THE CRITICS SAY...
"This book sure makes it fun to learn about explorers for young middle-graders, especially to open up their minds about men who risked much and left a contribution to our world."
— Library of Clean Reads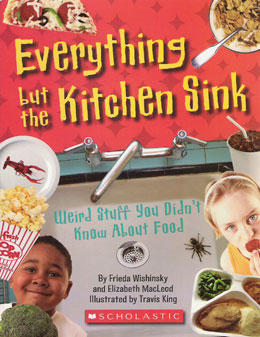 EVERYTHING BUT THE KITCHEN SINK
Weird Stuff you Didn't Know About Food
By Frieda Wishinsky and Elizabeth MacLeod
Illustrated by Travis King
Scholastic, 2008
ISBN:13 978-0-545-00398-8
ISBN:10 0-545-00398-9
Winner: Red Cedar Award
Silver Birch honor book
Highly Recommended: CM
A LITTLE ABOUT...
Wacky food facts, fascinating trivia, superstitions, records, traditions, inventions and more.
WHAT THE CRITICS SAY...
"This delicious compendium of little-known food facts explains what 19th-century cowboys ate (mostly beef, beans and potatoes); how much cereal kids eat (an average of 15 pounds a year); why people in Scotland always store unsliced bread with the rounded side up) ...One thing is for sure: you'll learn some stuff about food that you never knew before."
— Infodad
"Wishinsky and MacLeod create 10 fast paced, amusing chapters with titles such as: 'Why Don't Vampires Like Garlic' (traditions and superstitions), 'Would You Eat Tarantula?' (munching around the world), and 'Who Invented That?' (incredible food inventions). Each chapter is not only chock full of facts and fascinating tidbits but also answers questions such as 'Do watermelons remove freckles?' and 'Can you really clean a toilet with a can of cola?' Each chapter ends with a suggestion for an activity ranging from party ideas to crossword puzzles. Although the text as presented can stand alone as well done, illustrator Travis King must be commended for adding humor and energy that will attract readers and keep their interest. His illustrations are graphic, colorful and with a quirkiness that sets the tone of learning through sheer enjoyment."
— CM Magazine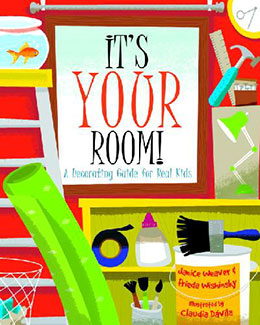 IT'S YOUR ROOM
A Decorating Guide for Real Kids
By Janice Weaver and Frieda Wishinsky
Illustrated by Claudia Davila
Tundra Books, 2006
Age: 9-12
64 pages
ISBN: 10-088776 711-7
ISBN: 13 978-0-88776-711-1
Winner: Red Maple Honour Book
A LITTLE ABOUT...
This exciting book by Janice Weaver and Frieda Wishinsky offers creative solutions to all your design dilemmas — and does it without breaking the bank. Inside, you'll find out how to:
Execute a TCC — Total Clutter Clearout
Organize your space — and your life
Choose paint colors to change the mood and feel of your room
Give new life to old furniture
Create zones with color and lighting
Accessorize to put your own stamp on your space
WHAT THE CRITICS SAY...
"Gr 6-10-Budding interior designers and readers who want to personalize their rooms will appreciate this title. It is filled with step-by-step guidelines for creating a budget, selecting paint colors and fabrics, organizing closets and desks, laying everything out, and adding finishing touches. A great find for novices in the throes of makeovers."
— School Library Journal
"An impressively 'kid friendly' collection of basic 'how to' information on how children can designing a desirable and attractive room for themselves. Comprehensively guiding readers through the entire process from clearing a room to placing light fixtures, It's Your Room offers a simply brilliant introduction to interior design principles for kids from elementary school through high school. An ideal and popular addition to family, school, and community library collections, It's Your Room is very highly recommended for all young people aspiring to redecorate their room to accord with their own (and changing) tastes and preferences."
— Childrens Bookwatch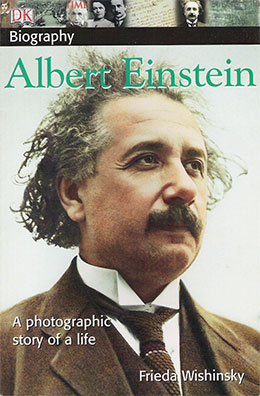 ALBERT EINSTEIN
DK Publishing, 2005
Paperback
ISBN: 0756612470
Starred selection: Our Choice, Canadian Children's Book Centre
A LITTLE ABOUT...
This fast-paced, biography of Einstein keeps readers engaged in his remarkable life and accomplishments.
WHAT THE CRITICS SAY...
"An engaging biography..."
— Jewish Book World
Listen to a review of ALBERT EINSTEIN on Net Radio's All About Books.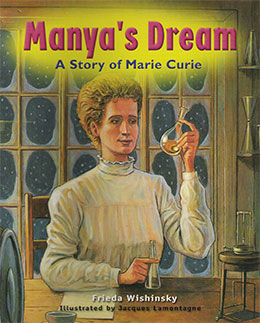 The Great Scientist Biography Series
MANYA'S DREAM: A STORY OF MARIE CURIE
Illustrated by Jacques Lamontagne
Maple Tree Press, 2003
ISBN: 1-894379-53-5 (bound)
ISBN: 1-894379-54-3 (pbk)
Preliminary Shortlist: Information Book Award, 2004,
Children's Literature Roundtables of Canada
A LITTLE ABOUT...
An engaging and accessible biography of scientist Marie Curie, who confronted discrimination and tragedy and yet won two Nobel prizes in science.
WHAT THE CRITICS SAY...
"This is a truly astonishing life story."
— Booklist
"Approachable and enjoyable...a picture of one of the world's great scientists in an inspiring story"
— BC Parent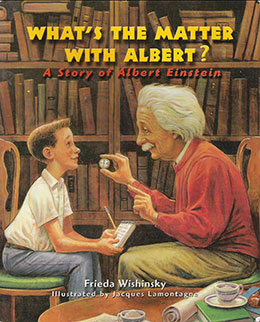 WHAT'S THE MATTER WITH ALBERT?
A Story of Albert Einstein
Illustrated by Jacques Lamontagne
Maple Tree Books, 2002
ISBN: 1-897066-15-5
Highly Recommended: CM Magazine
Starred review: Our Choice, Canadian Children's Book Centre
A LITTLE ABOUT...
This picture book biography brings the famous scientist "to life".
WHAT THE CRITICs SAY...
"Getting inside the 'mind' of a man so well respected for his ingeniousness is no simple task. Yet, Wishinsky does a very good job of capturing, as she describes it, the 'personality and spirit in mind' that makes Einstein such a fascinating character. There is little doubt that creating a believable interview between Billy and Einstein would be challenging, but Wishinsky meets the challenge in an excellent fashion. The dialogue is believable both in style and in content. Einstein comes across as a quirky individual who, despite being poorly understood, was able to cultivate and share his own views about the world. WHAT'S THE MATTER WITH ALBERT? would be valuable to any child interested in knowing more about Einstein 'the genius' and Einstein 'the person.' Easy to read and easy to digest, this book is recommended for all collections."
— CM magazine
"Gr. 2-4 Though the story-within-a-story sounds cumbersome, it works very well. In a note, Wishinsky points out what part of the text is Einstein's own words, the parts that are based on biographical facts, and the fictionalization. The presentation ends with a two-page chronology. Large, colorful paintings dramatize the story and clearly convey the different periods and settings. An unusual, but worthwhile, introduction to Einstein's life."
— Booklist
"Appealling, imaginatively conceived ... the book works on a number of levels."
— Quill and Quire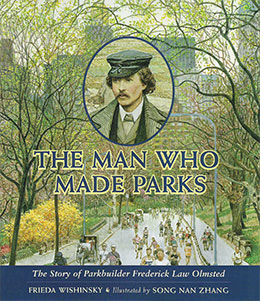 THE MAN WHO MADE PARKS
Illustrated by Song Nan Zhang
Tundra Books, 1999
ISBN: 0-88776-435-5 (bound)
ISBN: 978-0-88776-902-3 (pbk)
Voted an "Outstanding" book by the Parents Council of the U.S.
A LITTLE ABOUT...
When the great cities of North America were being developed, there was little thought to creating "green spaces." Frederick Law Olmsted combined his childhood love for nature with the structured beauty of the great parks of London and Paris to turn a neglected, swampy area into one of the most acclaimed parks in North America: Central Park in New York City.
WHAT THE CRITICS SAY...
"The straightforward text is informative, and the many colorful pencil illustrations add greatly to the book's appeal... [This] illustrated biography makes its statement with style."
— Booklist
"The text brings Olmsted to life..."
— School Library Journal
"It's a rich tale of a man finding his true calling and a nation finding a visionary..."
— San Francisco Chronicle